Bioflow Magnetic Dog Collars
Available in Large or Small in Black, Red, Yellow and Olive
Small fits up to 45 cm
Large fits up to 65 cm
Price £24.95 (free postage)
We accept cheque, postal order, paypal
These collars have helped dogs with arthritis, joint and muscle stiffness, pain, fatigue and many other ailments.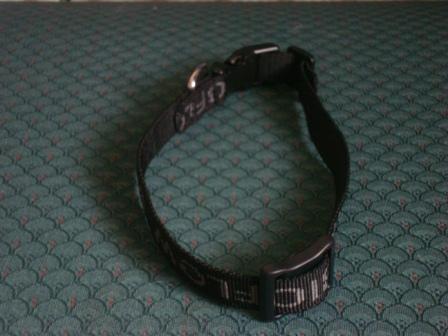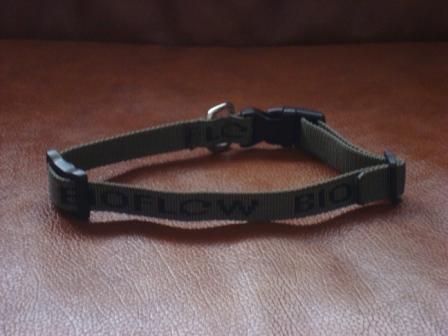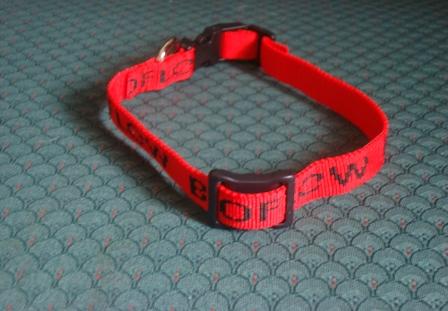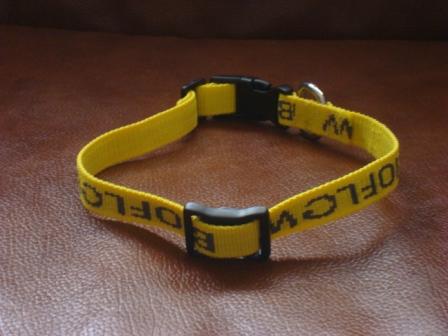 What customers say about Bioflow Dog Collars
We purchased a Bioflow for pets hoping it would help our 8 year old Labrador. Teifi has congenital hip dysplasia. As a four month old puppy he would not walk - indicating a serious problem. Our vet said it would improve and it did. He also said Teifi would be taking tablets by the age of 4 years, and this has not proved true. We have kept Teifis weight down, used homeopathic medicine and some anti-inflammatory tablets. Since buying the Bioflow for Teifi he has been much livelier, playing with our 4 year old Labrador, walking and running better, even chasing his tail!! He is taking no tablets of any sort for the first time in 4 - 5 years. We are delighted with, and can recommend Bioflow. D.M.H
I thought you might like to know about the Bioflow collar I had from you last month. Our old black Labrador has very arthritic hip joints and has been on anti-inflammatory pills for two years. This has always worried me in case it affects his kidneys. Well, since his Bioflow collar arrived we have stopped his pills and he is better than I can ever remember, not just his back and legs, but his general health. He is so much happier! Our Irish Wolfhound now wears a Bioflow and to my amazement jumped over the fence into the Donkey Field last week. If I am not careful the donkeys and sheep will be sporting collars! J. C
We have a Bichon/Maltese (11 years old) staying at the moment while her owner is in South Africa. She is wearing a Bioflow and has been for the past week, as she has arthritis in both back legs. The difference in her is incredible. She now leaps up onto the sofa (she couldn't do that pre-collar) and she is generally much happier. She no longer lets out little wails when someone knocks her legs slightly or if she moves a bit awkwardly. In short she is a different dog. C.H
One of my four Border Collies has suffered from arthritis in her leg for 18 months, and restricted to short walks at the end of which her leg was held high in pain. The vet said nothing could be done except continuing pain control tablets. At the end of my tether I decided to try the Bioflow collar I had read about, as a last resort. After Gemma had been wearing the collar for two and a half weeks I began to see a difference, and now three and a half weeks later, she is actually running about with my other dogs.
I honestly have not the slightest idea how or why these collars work, I know they DO. I hope that anyone in doubt, like I was, will try one, they have nothing to lose and everything to gain. D.W
Our dog Lica is a Belgian Shepherd aged seven, who had started having trouble with her back legs giving way, which is often a defect in that breed. She became lethargic, didnt want to go for walks and had stopped going upstairs. After one day wearing a Bioflow she is wagging her tail, frisking about like a puppy and biting out other dog's neck. R.H
Bioflow is a Class 1 Medical Device which has helped many animals. It can take as long as 3 to 4 months to see a benefit. We offer you a GUARENTEE - wear your Bioflow collar on your dog continuously both day and night for a full 3 months, if no benefit seen, remove collar for 7 days, if still no benefit seen, then you may return collar and you will get 85% refund, ie we will refund you the price you paid less 15% of the RRP Price. Please produce receipt when returning product for refund.
For dogs and cats with thick hair/fur the Bioflow should be fitted as close to the skin as possible, but should not be restrictively tight. If necessary part the hair or clip or shave a bit of hair of where the magnetic module will be worn. The module (the active part) should be fitted near the pulse in the neck. Always ensure that all animals have plenty of drinking water available.
Please note: Whilst there are many delighted customers, we obviously cannot guarantee that Bioflow will help any particular condition. If a pet is unwell there is no substitute for sound medical advice.