Presents
Golmas Gilded Rose at Rosegrove

Sire: Marjamez My Guy at Rossgilde
Dam: Golmas Grace 'n Favour
Born: 13th April 1998
Hips 5:5 Eyes: Clear


Rosie
These photos are of Rosie enjoying the snow at 12 years and eight months. Rosie doesnt take life too seriously so was only shown a couple of times. Instead of behaving herself, she liked to carry on and play with the judges feet. She is always full of mischief and doesnt know what to get up to next. Her party trick is to open the bars of the gates, so needless to say, we always have to put a padlock on the gate. At 11 years old, she is still full of life, and gives the younger ones a run for their money when they are playing. Rosie is very proud of her litter brother, Show Champion Golmas Governor. We would like to thank Bernard for letting us have her.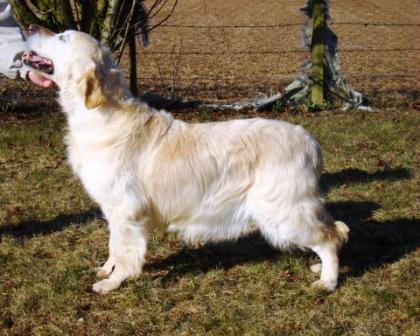 Monday 8th August 2011 was a sad day for us at Rosegrove. We had to say goodbye to our foundation bitch Rosie. Rosie enjoyed a very active life up until two weeks before she died. She was put to sleep to prevent further suffering. Rosie joined us from the Golmas kennel on 21st June 1998. In this photo she is 12 years old.
Rosie was never a show dog. She just wanted to play. She found showing boring. Even up until the end she was full of mischief. She hadnt a bad bone in her body. She was scared of nothing and her temperament was brilliant. I will never forget the day that she jumped over barbed wire into a field of cows. She loved everyone and every animal. To know her was to love her. She even enjoyed her visits to the vet. When she went into the surgery she always put her big paws up on the receptionists desk and looked around her as if to say "Rosie's here". A dog with a big personality and full of fun.
She could take the padlocks of the gates with her nose in no time time at all if the padlock wasnt locked and she would open the gates. When she was getting her coat brushed she liked to sit her bum down on my knee. She would lift and carry anything including the ornaments. She liked to put her nose in a pocket always looking for a treat.
In her lifetime she had 3 litters. She was a fantastic mother. She lives on in her children and grandchildren. She is very much missed.
Pedigree of " Golmas Gilded Rose at Rosegrove"

Parents

GrandParents

GreatGrandParents

SIRE

Marjamez My Guy at Rossgilde

Sh Ch Elswood the Highlander

Sh Ch Jobeka Jasper of Nortonwood

Sh Ch Westley Clementina

Sh Ch Gaineda Imperial Ice

Sh Ch Linchael Conspiracy of Chevanne

Gaineda Chasing Rainbows

DAM

Golmas Grace 'n Favour

Kerrien Churchill of Sansue

Ch Sansue Golden Ruler

Sh Ch Kerrien C'est La Vie

Golmas Guns A' Poppin

Ch Stanroph Sailor Boy

Golmas Goya