Presents
Kilgad Golden Harvest at Rosegrove

Sire: Ch Coombstock Disco Dancer
Dam: Kilgad Harvest Mist
Born: 18th July 1992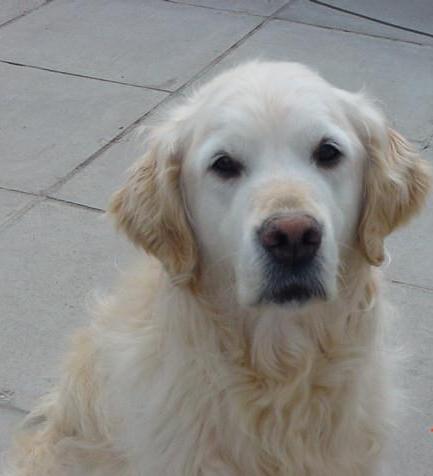 Holly
Holly was another favourite of mine. She was always very affectionate. She always liked to give people her paw, and would have nudged you with her nose for you to put your arm around her. She liked to lie on your knee if any of us were sitting on a particular armchair. When any of us would have been eating melon, she could smell it a mile away. She would have come racing for a piece and would have sat beside you patiently waiting. The drips of water would have been coming from her mouth and dripping on to her chest.
Holly was more of a pet, than a show dog. Her best win was at St Patricks day championship show in Dublin on 17th March 1993 when she won the minor puppy class under Mrs J Tudor (Camrose).
We put her to sleep on 22nd July 2006 at the age of fourteen, to prevent further suffering.
Pedigree

Parents

GrandParents

GreatGrandParents

SIRE

Ch Coombstock Disco Dancer

Ch Okus Buccaneer

Ch Moorquest Mugwump

Saffron Dawn of Okus

Coombstock Fashion

Chebula's Architect

Flicka of Yeo

DAM

Kilgad Harvest Mist

Ch Bethrob Bracken

Kimsgold Dean

Garbank Golden Oriole

Ir Sh Ch Linchael Ecstacy at Lawpark

Ch Styal Scott of Glengilde

Sh Ch Linchael Delmoss