Presents
Seamourne Seanymph at Rosegrove
Sire: Sh Ch & Ir Sh Ch Seamourne Seashanty
Dam: Seamourne Solar Sequel
Born: 6th June 1994
Hips: 3:5 Eyes: Clear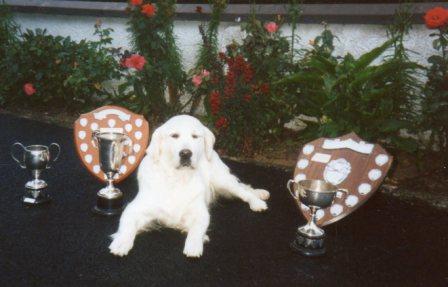 Vicky
Vicky was a little bitch with personality plus. She always spoke back. When anyone spoke to her, she always answered back with a funny we bark and a howl. She knew the time and always waited on me coming home from work. I missed her so much when she died. She played with her toys up to the week before she died. Unfortunately Vicky was infertile, so I was unable to get a pup from her.
Vicky enjoyed the shows. She was a first prize winner at open shows and championship shows under IKC rules. She also won best of breeds and was placed in the gundog group.
We put her to sleep on 31st August 2003 to prevent further suffering from cancer. She was nine years old.
Pedigree

Parents

GrandParents

GreatGrandParents

SIRE

Sh Ch & Ir Sh Ch Seamourne Seashanty

Glorfindel Secret Potion

Sh Ch Melfricka Zed

Melfricka Forget Me Not of Glorfindel

Seamourne Solo

Ir Ch Mandingo Playboy at Avoncraig

Shargleam Tiger Moth

DAM

Seamourne Solar Sequel

Glorfindel Secret Potion

Sh Ch Melfricka Zed

Melfricka Forget Me Not of Glorfindel

Seamourne Solo

Ir Ch Mandingo Playboy at Avoncraig

Shargleam Tiger Moth